How We Work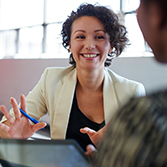 At McCready and Keene, we take a great deal of pride in our success at developing breakthrough processes that help our clients better meet their goals.
A Team Effort

One of the first differences you'll notice as a McCready and Keene client is that we assign a whole cross-functional team to your plan. Everybody on the team will be familiar with your plan and your preferences, so if your primary contact isn't available you'll always be able to talk to someone who knows the special details of your account.

Full Time Compliance Support

Included on your team is one of our highly experienced staff attorneys or paralegals. By making compliance an integral part of how we handle your account, rather than something we do in addition to our 'real' jobs, we assure that we will do our best to help you avoid any problems with the regulatory agencies.

Experience

In order to help you choose the plan that is suitable for meeting the needs of your company and your employees, McCready and Keene offers a wide range of retirement plan options and expertise.

Made-To-Fit Solutions

In drafting your plan, McCready and Keene can often give you the option of customizing using an individually designed plan or a volume submitter plan. This unusually high level of flexibility allows you to get exactly the plan you want, rather than an 'off-the-shelf' version that may or may not come close to what you want.

Accuracy and Convenience

Once your plan is established, we can provide all the reports you need in a timely fashion and electronically.